Permanent Hair Removal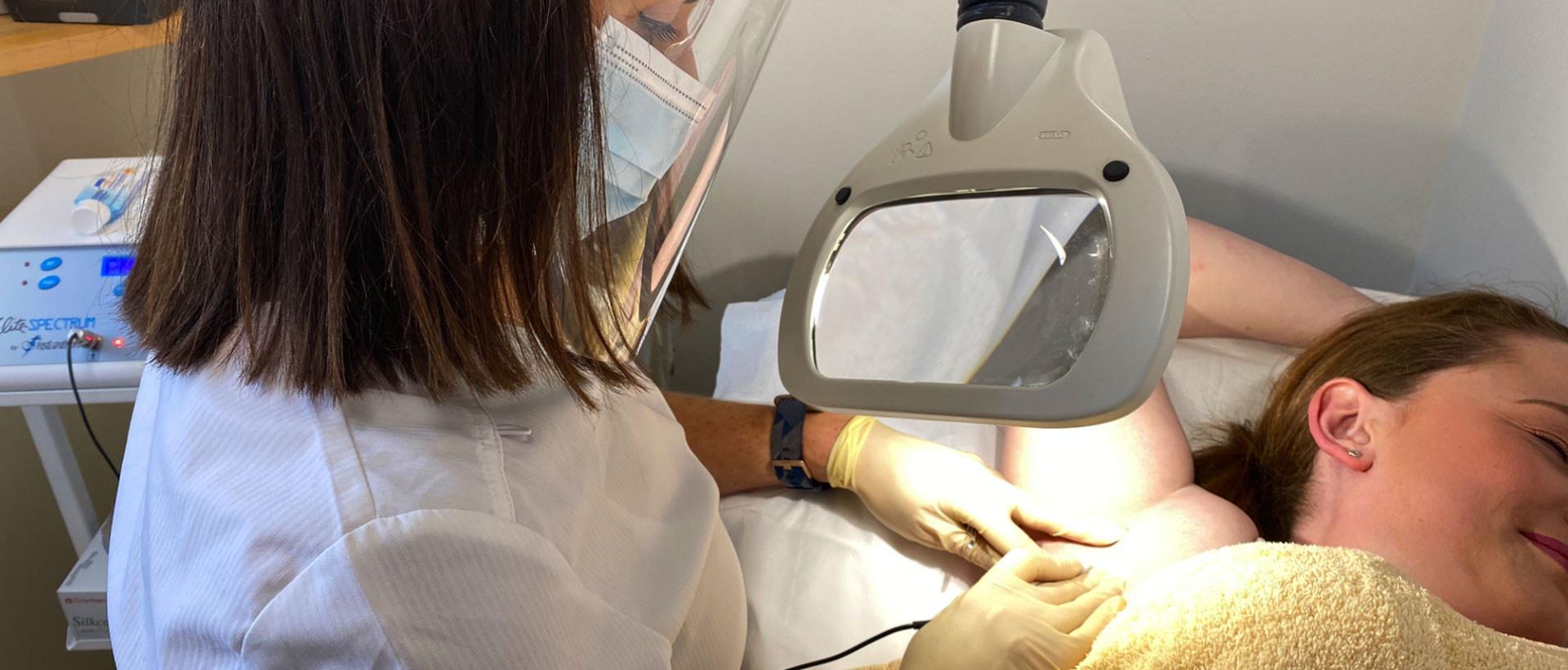 If you want Permanent Hair Removal, Electrolysis is the answer.
At the Catherine Hayes Electrolysis Clinic, our staff are dedicated to achieving the best results for you. We are keenly aware of the psychological effects that unwanted hair can cause people. Almost all women at some time are concerned about unwanted hair on their face or body ; to some it is just a nuisance to others it can be a cause of worry and even embarrassment.
You can expect a highly skilled experienced and understanding Electrologist. The practice is hygenic and comfortable. Consultations are free, and during a consultation the area needing treatment is assessed. The treatment is planned. (It is important that the client co-operates with the Electrologist and commits to regular treatments until treatment is no longer neccessary. Your patience will be well worth the effort.)
The length of treatment times vary, so also does the frequency of treatments depending on the amount of hair growth and the areas needing treatment. Some details about your health may be required to assess the hair growth.
We offer Permanent, medically approved forms of hair removal. Highly skilled and understanding Electrologists will assess your problem and advise on the best method for you.
Electrolysis is the perfect answer to permanent hair removal whether you have;
Dark, blond, red or grey hair
Coarse or fine hair
Tanned or dark skin
Tatooed areas
Hormonal changes
Polycystic Ovarian Syndrome
A hereditary condition of excessive hair growth
had laser treatment which was non effective
We treat male and female clients
FOR WOMEN:
Typical areas for permanent hair removal include: face, neck, breasts, eyebrows, bikini line, abdomen and any other part of the body
FOR MEN:
Typical areas for permanent hair removal include: beard, eyebrows, shoulders, back and abdomen
FACIAL HAIR, CHIN AND NECK
All excessive hair is embarrassing ,chin and neck hair can vary in thickness and length . These hairs can be stronger due to previous tweezing ,shaving , threading or waxing but no matter how strong the growth ELECTROLYSIS will give you the PERMANENT result you desire.
UPPER AND LOWER LIP
Probably the most common area for treatment, whether its fine fair or strong coarse hairs this area is perfectly suitable for electrolysis. The lip area can be a little sensitive, treatments here are of shorter duration and it is possible to use a Topical Anesthetic but most people manage without it.
SIDES OF THE FACE
Another common area for electrolysis. This area responds very well to electrolysis, even a few sessions makes such a difference. Great to be able to tie your hair back with confidence.
EYE BROWS
Most of our clients who treat their lip and chin are so delighted with the results they decide to do electrolysis on their Eye Brows. No more tweezing or unsitelly stubble, great satisfaction to have perfect eye brows all the time. This really enhances a well groomed look.
EARS
In most cases there might only be a few hairs but they can be strong and if tweezed will develop into thicker hairs.
BODY HAIR
BREASTS AND CHEST
Women can be very distressed and embarrassed about having hair growth around the Nipple /Areola area and often resort to tweezing these hairs and making them stronger. This is a surprisingly common area for treatment, everyone thinks "they are the only one" NOT SO! Results are achieved very quickly here ....
UNDER ARMS
Electrolysis works very well on under arms, it is the answer when shaving and waxing have caused irritation, ingrown hairs and pigmentation.
ABDOMEN
Some may only have a few hairs between the navel and bikini line or the whole stomach. might require treatment. ELECTROLYSIS is the answer if you want the area cleared PERMANENTLY.
BACK
Many men have thick coarse hair here, it might be just the shoulders or it can cover the whole back. Electrolysis works perfectly here, usually sessions of 1 hour or longer are required in during each session.
ARMS AND LEGS
Winter time can be a good time to start clearing large areas of the body that don't respond to laser or if a final permanent clearance is desired.
With a GP's written consent hairs from moles can be treated. With treatment a mole may reduce in size and colour.
Preparation for Consultation
We need to see what your hair growth is like. In order for us to advise you on the best treatment plan we would like you to stop whatever temporary hair removal methods you are using before coming for your consultation. Ideally stop shaving or tweezing 5-7 days prior to consultation, if waxing or threading make sure there is growth there for us to see and treat on the day should you decide to have electrolysis. If you wish to treat the hairs in a mole, you will require a letter from your GP.
Electrolysis Prices:
| Time (Minutes) | Treatment Price |
| --- | --- |
| 10 | €25.00 |
| 15 | €30.00 |
| 20 | €35.00 |
| 30 | €40.00 |
| 45 | €60.00 |
| 60 | €75.00 |
Specialised Treatments:
| | |
| --- | --- |
| Test Patch (Veins) | €30.00 |
| Broken Veins (min) | €60.00 |
| Broken Veins (full) | €80.00 |
| Whiteheads & Skin Tags from | €60.00 |
Waxing Treatments:
| | |
| --- | --- |
| Full Leg | €35.00 |
| Half Leg | €20.00 |
| Bikini Line | €15.00 |
| Under Arm | €15.00 |
| Back | €30.00 |